About
This game is called Drop Shot and is fucking nerve-wracking and hilarious. Think Russian roulette meet shots. We've been trying it out, and are going to tell you all about our experience with Drop Shot.
"The suspense was the best part and the shot we poured was disgusting, so definitely did not want it!"
The set-up
The game arrives in a neatly packed box. Here you will find all the pieces needed for the game. You got the base, the funnel, and the handle and dice. Everything is easy to put together and only takes about two minutes from opening the box to be ready to play your first round.
Find the official assembly instructions here!
How to play
The game is very easy to understand. When it's your turn, you roll the dice and do the appropriate action according to what you roll. There are 4 different possibilities, you can either roll a one, meaning you turn the handle once, a two turning the handle twice, a zero meaning you lucked out or an 'X' meaning you need to roll the dice again.
Find the official how-to-play here!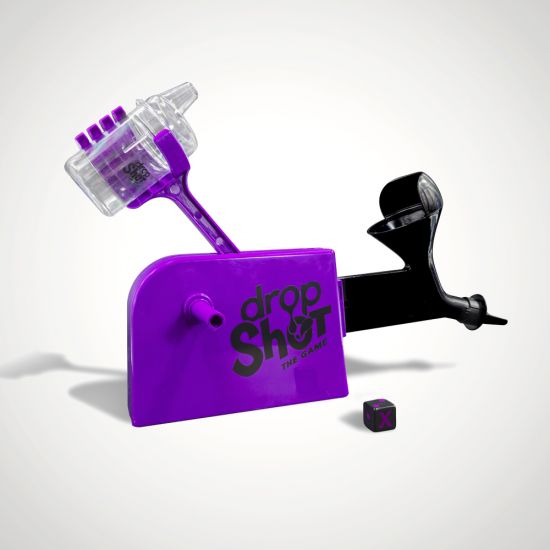 What's good
We really love the general idea of the game, and the random trigger really gets your heart raising (especially if you pour something nasty in it!). You never really know when the shot is gonna hit. We also like how easy the game is to play and understand, anyone can drop in and participate. It's also very easy to assemble the game.
What could be better
The lid of the bottle is freaking hard to get on and off. And the mouthpiece can be a bit tricky to drink from. Overall it's a pretty nice game.
Overall rating
An overall assessment of Drop Shot is that it's a hilarious, user-friendly drinking game with minimal to no bad things to it. We give it 4.5 out of 5.

Where to get it
You just click this link and buy it straight off there website!
Disclaimer:
Please remember to drink responsibly! This post isn't meant to make you sick due to the over-consumption of alcohol. PartyPingo does not encourage irresponsible drinking of any kind. Stay safe, everyone!
If you enjoyed our content, please share it with others or give us some feedback and let us know how we can make it better!
Post contains Affilite Links