Dicey Raises the bar for drinking games

Dicey started 3 years ago while they were attending Cornell University in Ithaca, New York. The game is their enthusiasm and cleverness combined into one drinking game. And IT'S AWESOME!
The game itself is simple, you roll the die and pick a card. The card will challenge you to do the most outrageous and hilarious things; the losing player must drink. For a full overview of the rules, visit the Dicey website at https://www.playdicey.com/.
Get your Dicey Drinking Game here!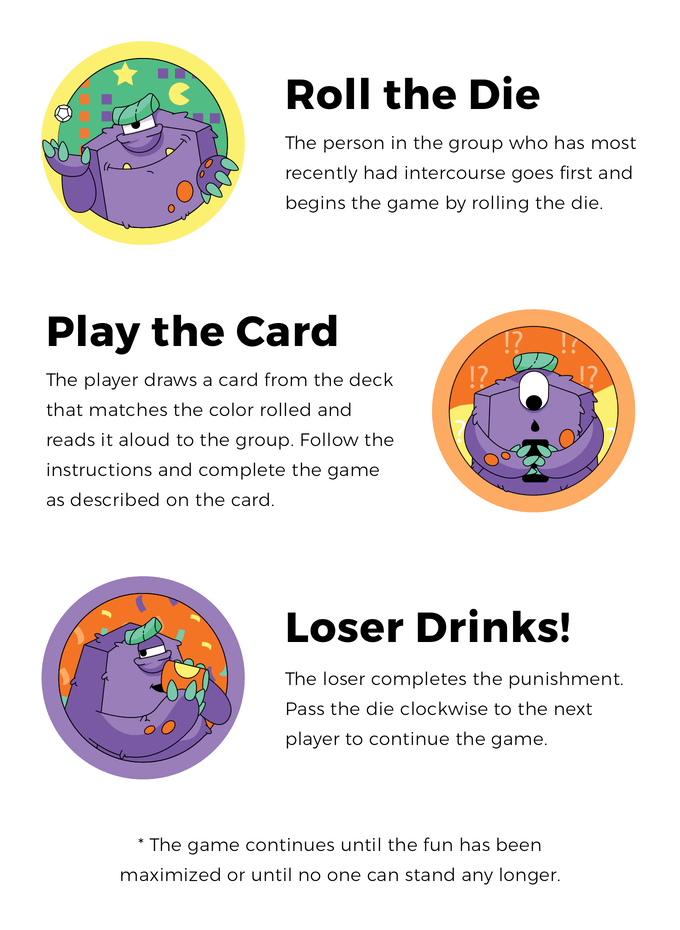 Watching someone stick an ice cube up their butt in front of a group of 30 people at a bar because of our card, "You Won't!".
Logan, Joe, and Matt were the founders of Dicey. Today, they have expanded their crew by bringing on UX Designer Anna and Doctor/Bad-ass salesman Kyle to boost their brand and put the finishing touch on the game. We've had the pleasure of talking with them and bringing you this exclusive interview.

How did you come up with the idea to develop your own drinking game? Of course, we all are BIG drinking game aficionados. We play everything from Quarters to Kings to Pong, to you name it. But, we were all sitting around one day and couldn't decide what to play, so we just decided to start making our own! So, fast forward three years, and Dicey is born and ready to ship!
Why a board game and not an app?  One of our main priorities when creating Dicey was to get people off of their phones and get them interacting and having fun.  We contemplated going the app route for quite some time. Still, We ultimately realized that having a physical die to roll and physical cards to draw and interact with creates more social engagement than being locked into your phone. Dicey is great because it is such an 'in-the-moment experience that brings everyone together!
Fun times with Dicey
When playing games and drinking your hat off, dumb shit is bound to go down. The Dicey game highly encourages this; in fact, their mentality and slogan are "up to no good." And from what we hear, the Dicey crew are no strangers to fun experiences. They like to get out there and play their game with everyone they meet. Unfortunately, they couldn't give us their best experience with the game when we spoke with them, so they gave us a few.
Watching someone stick an ice cube up their butt in front of a group of 30 people at a bar because of our card, "You Won't!".
We have a card called "Phone a Friend," where you FaceTime someone and have them do a dare live on your behalf (the group picks the dare). The person who was called accepted the dare and proceeded to smash an egg on her forehead in front of her family at their Christmas Party. That's a real friend!
Get your Dicey Drinking Game here!
What does the future bring for Dicey?
Dicey has two AMAZING expansion packs that are nearly ready to go. And they are planning to release them both in 2019! They tell us they will release more details on those within the next few months, but they are laugh-out-loud funny and really embody the Dicey "up to no good" mentality.

Also, they start shipping to America and Canada from February, so you can enjoy Dicey no matter where you are.
We're excited to follow Dicey's journey on conquering not only North America but the rest of the world with their amazing drinking game.
Ending advice: Get this game ASAP, share your stories and embrace the Dicey mentality: "Up to no good!". I know we will.
Disclaimer:
Please remember to drink responsibly! This post isn't meant to make you sick due to the over-consumption of alcohol. PartyPingo does not encourage irresponsible drinking of any kind. Stay safe, everyone!
If you enjoyed our content, please share it with others or give us some feedback and let us know how we can make it better!
Post contains Affilite Links