Fingaz Bowl: For fingers drinking game!
Why it's awesome.
For all of you who have played fingers. First of all; it's a brilliant game, it's fun, easy to learn and a great party game. But as you probably know or have experienced, it can be a bit tricky drinking from the various bowl you use from time to time. Furthermore the natural pace of the game and your eager to move your finger on/off the 'bowl' can cause it to tip over. Well. Say bye bye spilling and hello unlimited fun. These guys have created an custom-made bowl, with soft curves for your fingers and a wide base for the bowl with a spout for smooth drinking.
"My friend who lost ended up sleeping at a train station outside that night."
For those who've never played fingers: You place your finger on the bowl and the person starting, counts down from 3. When they say "1!" you can choose to remove your finger from the bowl or stay. The person counting down must call another number (right after "1"), and try to guess the amount of fingers left on the bowl. If the player is correct, that person is out of the game, and it's the next players turn. Last man standing finish whatever is in the bowl. Check out fully detailed rules here.
The team behind
The guy who came up with the idea, is Julien. With a
degree in Business Administration from Sacred Heart University he succesfully started Fingaz Bowl. In his own words: "The team is comprised of my cousin Thomas who runs operations and my friend Jordan who runs the finances. I, myself (Julien) oversee the day to day responsibilities and everything else in between."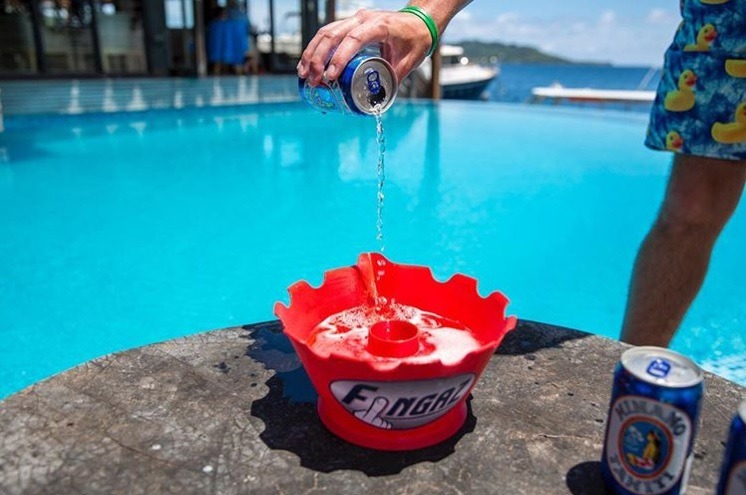 Fingaz Bowl Experiences
We asked the Fingaz Bowl team about their experiences with the game so far. "The funniest story I have is when we played one round with our original prototype and the loser had to drink a shot of absinthe. My friend who lost ended up sleeping at a train station outside that night.".
Developing a drinking game presents a lot of awesome way of promoting your game, and that's why, if you check out their Instagram @fingazbowl, you see them going around playing Fingaz Bowl with everyone they meet. If you tag them, and you're lucky they might bring Fingaz to your college.
How the developers play it.
Do you believe you can take on Fingaz Bowl team? From what we've heard, they prefer playing with shots of whiskey or tequila. Ay Ay. The bowl is usally filled with two beers when Fingaz play, but fun fact: Fingaz Bowl can fit up to three beers!
The future of Fingaz Bowl
Fingaz is a patent pending product being manufactured in the US. In the future they hope to partner with breweries all over America, and make Fingaz available to their guests so everyone can enjoy this simple and casual game.
We at partypingo believe in Fingaz Bowl, and wish the guys our best.
Fingaz Bowl is coming to Kickstart click here to learn more!
Disclaimer:
Please remember to drink responsibly! This post isn't meant to make you sick due to the over-consumption of alcohol. PartyPingo does not encourage irresponsible drinking of any kind. Stay safe, everyone!
If you enjoyed our content, please share it with others or give us some feedback and let us know how we can make it better!
Post contains Affilite Links