Guide to a Cheaper Night out
Expensive cocktails, entrance to the nightclub and a taxi home – it can get expensive in the city quickly. But with the right tips and tricks for a cheaper night out, you can quickly save a lot of money without having to miss the party.
If you are on a tight budget, it is especially important to consider what you are spending your money on when you go out. Even if you are not on a tight budget, it might still be a good idea to try and save a little here and there, so you can afford to walk around town more often.
Predrinking before the night out
The best way to save money is to warm up at home first. Invite friends to a pre-party at your house and relax for a few hours before heading into town. Of course, buying alcohol in a supermarket is much cheaper than in the city. At a nightclub, a drink can easily cost three or four times as much, so there are huge savings to be made.
Make a budget
It is a great idea to set a limit on how much you can spend on a night out. Raise money in advance and leave your thank-you card at home. Avoid borrowing money from your friends if you have spent all your cash. Instead, go home when you have no more money left.
Don't eat after drinking
You certainly feel like fries or a kebab after a night on the town, but it's a good idea to resist the temptation. Ordering greasy takeaway food is both expensive and unhealthy. Instead, make sure you have eaten enough before heading out.
Take advantage of special offers
You can often save money by arriving early to the club. Admission may be cheaper or graits if you arrive before 1pm. 23. Many nightclubs advertise with this to get more people to arrive earlier. In addition, many places have 'happy hour' where you can order cheap drinks or get two for one. 'Happy hour' is usually offered early in the evening.
Avoid the weekend
Friday and Saturday are not the only weekdays you can have a great evening in the city. In many cities, you can go out pretty much every night of the week. For the most part, going to town on a Monday or on a Tuesday will be much cheaper than on a Friday. Both entrance and drink prices will be lower as it is less popular to go out on a weekday.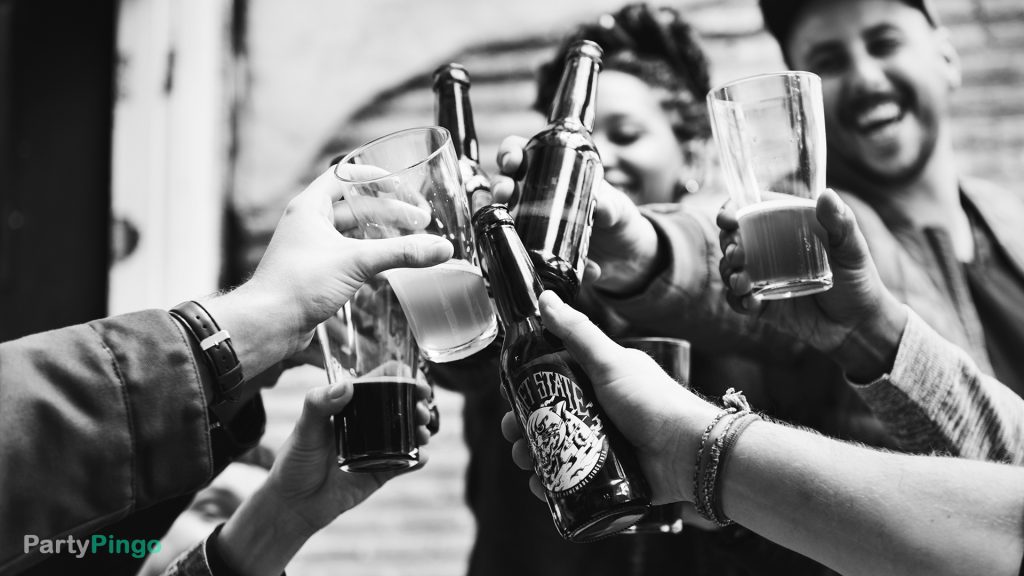 Don't drink expensive drinks
Be more conscious when buying a drink. Beer is much cheaper than a cocktail. So choose one of the cheaper drinks when you go to a bar or a disco. You can save a lot of money quickly.
Don't buy rounds for the table
Do not buy rounds, especially if you are a large group together. It may seem like a friendly gesture, but it rarely ends up being fairly distributed.
Drink more water
Drink a glass of tap water for each alcoholic drink you consume. Water is free and keeps you hydrated throughout the evening. The more water you drink, the less alcohol there is room for, so you save money and avoid the hangovers when you wake up the next day.
Disclaimer:
Please remember to drink responsibly! This post isn't meant to make you sick due to the over-consumption of alcohol. PartyPingo does not encourage irresponsible drinking of any kind. Stay safe, everyone!
If you enjoyed our content, please share it with others or give us some feedback and let us know how we can make it better!
Post contains Affilite Links