Home bar – How to make a home bar
A home bar always sounds like a good idea. Especially now that it can be very frustrating that the city is not open in these corona times. Everything is closed, and the weekends are no longer spent at the local bars. Instead, one is forced to stay at home even though one longs for a draft beer with friends. But now that you have a lot of time to spend and can not go to the bar, you can always build your home bar. Here you can invite your corona inner circle in. You decide the rules yourself, and there is no one to throw you out when it is closing time because you choose when it is. And luckily there is not far home. There are many benefits to a home bar because it can also be used on the day corona is no longer part of our everyday life, and it has all reopened. So it is not that hard to make your home bar, and in this article, we will guide you on how to build the perfect home bar for you and your friends to end up the coolest in your group of friends.
The right place and thoughts for your home bar:
Start by finding a good place for the home bar. Maybe you have an old outdoor house that still stands and collects dust. If your shed is not used, it can easily be turned into an extraordinary home bar. The possibilities are many, and only the imagination sets limits. You can even build a new shed in the garden intended for the home bar if you want to go all-in. Next, it is wise to clean out thoroughly, leaving you with a space ready to be transformed. Once cleaned, you can start thinking about setting up the bar. In general, it makes sense to plan how you want the result to be. If necessary, sketch a floor plan so that there are no unforeseen challenges with the dimensions and the size of the room. It would be a shame to have bought in and made ready for your ideas, and then the space is not there.
Home bar furniture:
The next step is to build the bar itself. You can easily do this yourself, but you can also pay for it. You almost have to use wooden boards, which can be bought at most DIY stores. In this video, you can see how to put the plates together step by step. It may require you to have your tongue straight in your mouth, but it is far from an impossible task. It may. be a fun and different house project everyone can share in the household. Once the bar itself is in place, it would be good to get yourself a pair of bar stools. One can find them used in many places online. Here you can usually find them relatively cheaply. If you want to buy new ones, you can also easily find many different ones at housing markets all over the world. They come in many different shapes and colors, so there should be something for everyone.
Then you have control of the bar itself. Next, you can find out if you want and have space for tables and chairs for your guests. You can buy a small table with two accompanying chairs, like the picture below. The larger the space, the more seats and thus guests there is room for, but you must also consider what you use the area for. Have you, for example. An ample space, some of it may. Used on billiards or another game. It can be wise to "build up" if you have a small space. This means that it is wise to use height in the room. E.g., fills a bar stool more in height than in width, which would be wise to use to get the most out of the room.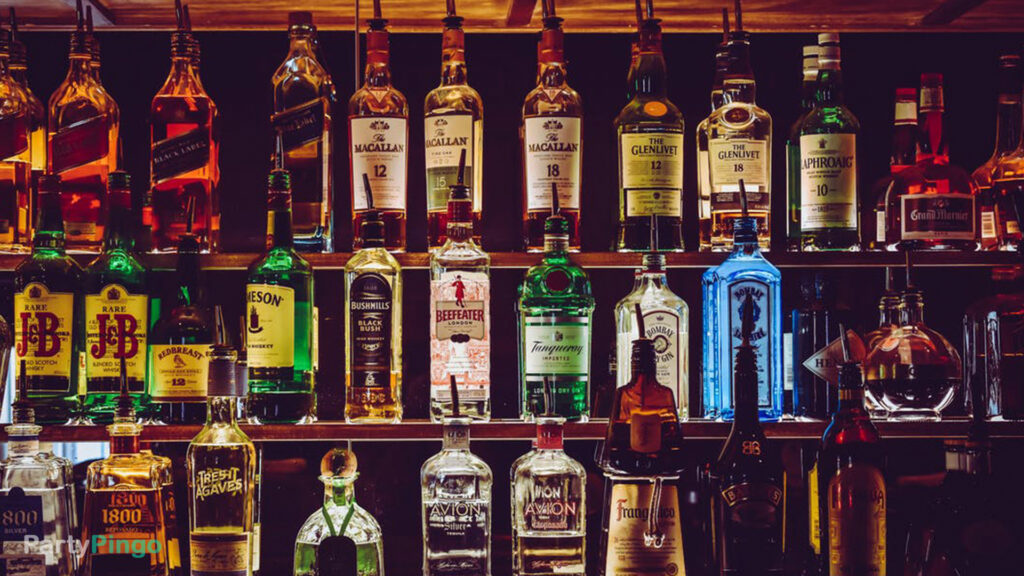 Drinks and snacks to serve in your home bar:
Bar most often means a form of alcohol. Therefore, it is wise to get a menu made of what the bar offers. Below we have written a few examples of drinks you can show in your home bar:
Draft beer
Bottled Beer
Red wine
White wine
Mojito
Gin & Tonic
Vodka
Rum
Cognac
Whiskey
Different kinds of sodas
Different kinds of shots
Energy drink
It is generally wise to have different kinds of sodas that one can mix up with different types of spirits. That way, your guests can decide how they want their drinks. A draft beer plant we have experience with is always a hit, so it would be good to acquire one. In addition, you can have classic cocktails like mojito and gin & tonic that people know what is. We have an article on the perfect gin & tonic here. In addition, we also have posts on the best gin, whiskey, and rum so that you can offer your guests the best of the best. It is also wise to have snacks at the bar, such as. Nuts and chips if the little hunger creeps in or your guests want to snack on something. It is generally an excellent style to offer something small to eat to its guests. In addition, it is also lovely to have the drinks served cold, so a fridge and ice cubes would also be a good idea for your home bar. This is just our idea for a menu card, but remember that you can shape it exactly the way you want it.
Accessories and storage:
Once the furniture and menu card is in place, and thus the most basic is in place, it is essential to choose the right accessories. It is this that creates soul and charm. You can put your personal touch on the bar and make it your own with the addition.
Glass for serving:
First and foremost, it is essential to have something to serve. Therefore, it would be wise to acquire the right glasses for a particular beverage. Consequently, they should procure authentic draft beer glasses, good wine glasses, and delicious cocktail glasses. It can be found used on, e.g., HomeWetBar, but it can also often be found on offer in various stores. Maybe you even have some standing ones that are not being used or that will fit better in your home bar than where they stand now.
Storage for glasses and bottles:
It is essential to have some storage for your liquor bottles, and one can find a lot of fats online. A holder gives a crisp and professional look. In addition, it is also intelligent, so you can quickly pour up and keep track of what kind of spirits you have.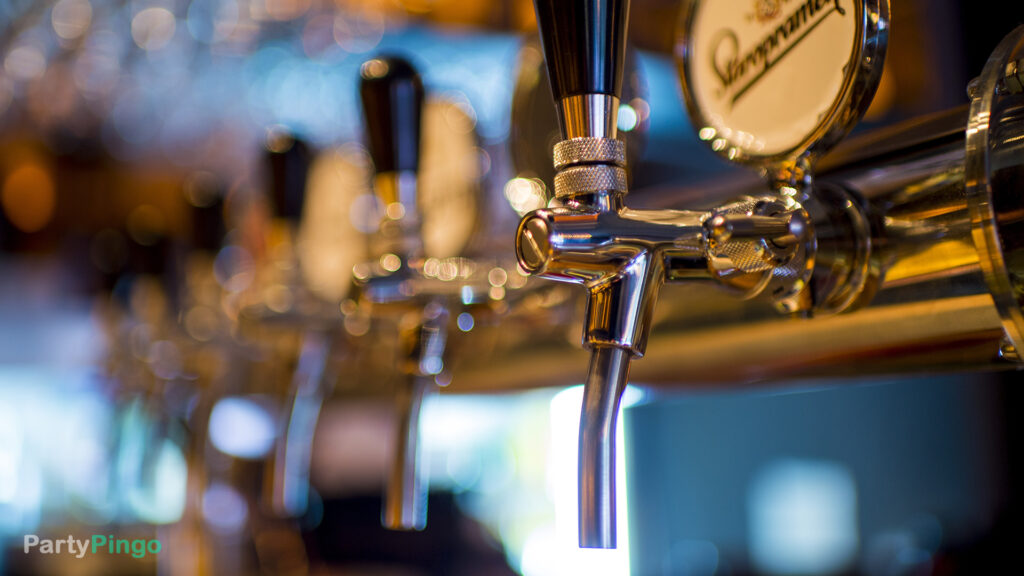 Of course, the glasses must also have a place, and if you do not have the opportunity to hide them away under the bar, you can buy a suspension for the ceiling. It also looks professional if the glasses hang from the ceiling. It may also be that you have a brilliant idea of how to set up the glasses in a nice way. It's important to consider that the space is probably not large, so it would be an idea to hide them away as otherwise, it can quickly look cluttered. In addition, it is essential to have basic things such as. A bottle beer opener and a corkscrew for the wine or cloth in case of spillage.
Entertainment for guests:
It is essential to be able to offer drinking games at your bar, but don't worry; here is 21 classic bar drinking game. Many choose to play all kinds of card games, and it is optimal if you have a card game that you can find out. When it's your home bar, you can also easily have board games lying around that you can play with your guests. We think this will be a hit. Maybe you have made yourself such a big home bar with room for a pool table or perhaps even table tennis.
Music:
There is no bar without music, and therefore it is, of course, crucial to have a speaker. Music does a lot for the atmosphere. It does not have to be a large and good speaker, as it is a small room, and therefore it does not take much to play in such a room. Of course, you must also be able to talk to each other, so the volume must not be too high. There are plenty of playlists with good bar music on the various music services, but it is ideal to choose your favorite bar tracks for your playlist.
Decoration:
Almost everything is in place, and all that is missing is decoration. It can, e.g., be candlesticks or tealights, which help to create a cozy atmosphere. Foaming on the wall can also contribute to this. It can, e.g., be signs that one can hang up. It could be an old beer sign or a sign with a funny quote that fits a bar. Only the imagination sets limits to the decoration, allowing you to make it your own.
Conclusion
It certainly takes it to create its home bar, but we think it's worth it. It's super cool when it's done, but it's at least as cool to create it and go further and further with the project. There is no final decision on what a home bar should look like. It's about making it your own, and having fun when you're there. Below we have gathered some inspiration. In addition, there is only to say really good fun!
Disclaimer:
Please remember to drink responsibly! This post isn't meant to make you sick due to the over-consumption of alcohol. PartyPingo does not encourage irresponsible drinking of any kind. Stay safe, everyone!
If you enjoyed our content, please share it with others or give us some feedback and let us know how we can make it better!
Post contains Affilite Links